The Raleigh Sports Club continues to experience phenomenal membership growth and a rising community awareness. By continuing to recognize both high school and college athletic environments the RSC continues its long tradition for competing teams and fans alike to find common ground of athletic and academic achievement in our future generations.
Originally established as a local sports club with 12 original members, the RSC has grown to over 300 members with weekly Wednesday luncheon meetings where they have the opportunity to listen to some of the most influential college and professional sporting figures first hand while recognizing athletic and academic achievement on a number of different levels.
To view pictures from various RSC meetings please click here!
Why Join?
Hear Riveting Stories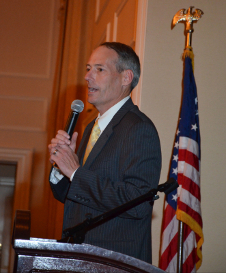 The RSC held its annual banquet on April 11, 2013 at the North Ridge Country Club. Nearly 225 people heard Mick Mixon, "Voice of the Carolina Panthers" provide his words of wisdom. At the Raleigh Sports Club we bring our members a wide and very impressive variety of speakers to our weekly meetings. On any given week, you could hear from the head coach of a NCAA champion basketball team, a member of baseball's Hall of Fame, or the receiver who made the winning catch.
RSC Annual Banquet
The RSC held its annual banquet April 11, 2013 annual banquet at the North Ridge Country Club in Raleigh. Mick Mixon, "Voice of the Carolina Panthers" was the special guest speaker.
The Raleigh Sports Club (RSC) celebrated the achievements of four (4) student athletes and one legendary high school coach. The RSC Scholarship & Distinguished Coaching Awards Committee selected the following:
Coach/Mentor - Distinguished Service Award ($1,000):
Head Coach, Todd Worley who is the Varsity Boys and Girls Soccer Coach at Sanderson High School.
Student Athlete Scholarship (4 @ $2,000 each):
Blake Williams - Wake Forest Rolesville - Football
Devon Hathaway - Millbrook - Swimming
Emily Bedsole - Ravenscroft - Cross Country, Track & Swimming
Sarena Treish - Athens Drive - Basketball
Congratulations again to these recipients.
For details on the Raleigh Sports Club and its relationship with student athletes we encourage you to watch this short video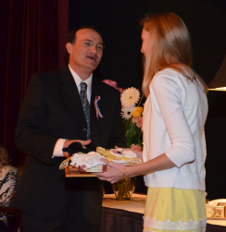 Talk Sports!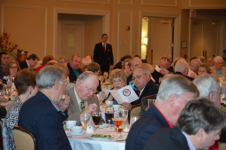 The RSC has a wonderful southern style buffet. Long lines form to get some of the best food and hear some of the most prominent sports speakers in the country. Get there early to get a good seat.
---
About the Raleigh Sports Club:
Our meetings are held in Bradley Hall in Highland UMC, 1901 Ridge Road at the intersection of Lake Boone Trail, just inside the Raleigh Beltline. Buffet lines open at 11:30am and the meeting is from Noon until 1:00pm on Wednesdays.
Membership Dues for the 2013/2014 year (meeting through mid-April) are only $60. For Members, the Weekly Attendance fee is $15 and applies whether the Member plans to eat lunch or not. All Guests fees are $25 per guest. Our Annual Banquet will be held in April 2014.
To become a member, click here to print the Membership form. Fill it out and mail it along with your check for $60 to the address on the form. Your canceled check is your receipt of membership. Speaker information, news and postings are updated weekly on this website. Bring a friend and come on out to one of our Wednesday meetings.
I look forward to seeing YOU!
Best regards,
Paul Bock, President


2013-2014 Speakers
August 28, 2013
Dave Doeren, NC State Head Football Coach
September 4, 2013
Eric Montross, UNC Basketball Radio Color Analyst & Tarheel Legend
September 11, 2013
Kelcey Carlson, WRAL TV-5 News Anchor & Marathon Runner
Carlson participated in & reported on the 2013 Boston Marathon.
September 18, 2013
Mike Minter, Former Carolina Panther football standout & current Campbell University Head Football Coach
September 25, 2013
Steve Logan, Former ECU & NFL Football Coach
October 2, 2013
David Cutcliffe, Duke Head Football Coach
October 9, 2013
Tom Walter, Head Baseball Coach - Wake Forest University
October 23, 2013
Dave Telep, ESPN Basketball Recruiting Analyst
November 13, 2013
Dr. Deborah A. Yow, NCSU Athletic Director
December 4, 2013
LeVelle Moton, NC Central Head Basketball Coach
December 18, 2013
Jeff Charles, "Voice of the ECU Pirates"
January 8, 2014
Dick Christy, University of North Carolina at Pembroke Athletic Director
February 5, 2014
Christmas Abbott, Cross-Fit Trainer & Michael Waltrip Nascar Pit Crew Member
February 26, 2014
Ruffin McNeill, ECU Head Football Coach
April 2, 2014
John Clougherty, Supervisor of Basketball Officials - Atlantic Coast Conference