The Raleigh Sports Club is in its 57th year (after a one year absence due to COVID/19) of providing weekly luncheons where 150 or more gather each week to hear fascinating stories from riveting speakers representing all parts of the college and professional athletic scene.
Why Join?
Hear Directly from Athletes, Coaches or Athletic Administrators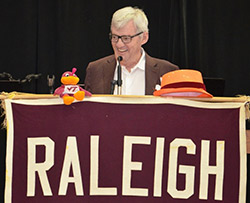 At the Raleigh Sports Club we introduce members to a wide and very impressive variety of speakers to our weekly meetings. On any given week, you could hear from Frank Beamer, the Hall of Fame former football coach of the Virginia Tech Hokies (shown above), the head coach of an NCAA champion basketball team, a professional referee, or the receiver who became famous for making the winning catch.
Student Athlete Of The Week
Wake County Coaches and Athletic Directors can nominate local high school student athletes for the RSC Student Athlete of the Week" award by completing this form:
Click Here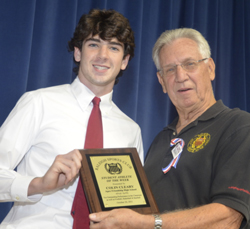 Colin Cleary of Apex Friendship High School was honored October 20, 2021 as an outstanding student and as a superb athlete in football, basketball, and baseball. The weekly award was presented by Rick Ulasewich of the Club Board of Directors.
The RSC honors local high school student athletes for their achievements on the field, in the classroom and in the community.
Talk Sports!

The RSC has a wonderful southern style buffet. Long lines form to get some of the best food and hear some of the most prominent sports speakers in the country. Get there early to get a good seat.
---
THANKS TO MORT'S TROPHIES AND AWARDS
For many years Mort's of Raleigh, NC has been donating the custom engraved plaque that is presented to the Student-Athlete who is honored each week by the Raleigh Sports Club. We appreciate Mort's gracious contributions to recognizing the amazing achievements of our local high school youth.
---
Please LIKE us on Facebook

You can follow Raleigh Sports Club on Facebook to learn about upcoming speakers, see stories and photos from recent meetings, share your comments and suggestions, and see the comments from other members. Please check in regularly and LIKE our Facebook page. If you see an upcoming meeting that would be enjoyed by others, please SHARE the notice with your Facebook friends.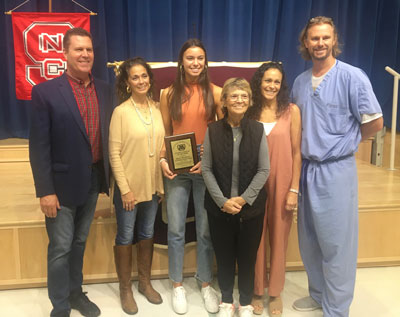 NEW 2021-22 SEASON ANNOUNCEMENT:
Dear Members, Guests, and Friends of Raleigh Sports Club:
The Officers and Board met on July 21, 2021. We are so excited to resume face to face meetings. Highland United Methodist remains confident that we can resume meeting this fall. A reminder, we will begin entering from the back patio facing the large parking lot.
At our summer meetings the Board reviews schedules, business items and "to do" lists. FYI, tax prep and audits are underway, three insurance policies are being renewed after post COVID 19 and membership rolls updated. Communication tools related to our emails, web site and social media are being evaluated or updated.
Particular attention was paid to our weekly meeting fee. Many of you may know that as costs have risen over the years, we have not been covering our lunches with the fee and our overall club balance has decreased annually. Your Treasurer and Bookkeeper provided a detailed breakdown based upon a per person cost based on our average of 135 attendees per meeting. The Board thinks this is certainly worth sharing with the membership.
Food, Inc tax, (12.5+7.25%) $13.40, Room Rental, $2.00 per attendee, Speaker fee ($300/135) $2.22, Bookkeeper ($125/135) $ .93 Comp meals for Student Athletes and Speaker (7 @ 13.40/135) $.69, Pick sheets $ .11, "Crying Towell" $ .19
Total Cost Per Meeting Per Attendee based on 135 attendees - $19.54
Items not covered by meeting fees (Annual Dues)
Insurances: Liab., D&O, Bonding ($1200), P.O.Rental ($350), Annual Membership mailing ($450), CPA costs for tax prep and audit (750), Annual Scholarships and COY award ($9,000) Annual Banquet award winner and guest dinners ($50 ea.) ($1500). Miscellaneous; Website, email management fees, bank fees, printing of member and guest cards, name badges.
After considerable consideration the Board voted to increase our weekly meeting fee to $20.00 and keep the guest fee at $25.00. A tough but needed decision to keep our Club fiscally sound.
We announced last month our Annual Dues would rise to $90.00 to cover the costs outlined above, but more importantly to do what sets us apart; the annual awarding of college scholarships to deserving high school student athletes not receiving an athletic grant in aid and a much deserved monetary award to a local Coach of the Year!
To keep us from mailing a reminder you may pay in advance by sending Annual Dues payment to RSC, P.O. Box 10275, Raleigh, NC 27605. A special thanks to over 40 of you that have already done so!!
Of most importance to you I'm sure, VP Nicholas Hulsey has secured 11 speakers of 14 "fall Semester" slots. Starting us out in September;
September 8 Boo Corrigan, NCSU Athletic Director
September 15 LaVelle Moton, NC Central Head Basketball Coach
September 22 Elliot Avent, NCSU Head Baseball Coach
September 29 Bubba Cunningham, UNC Athletic Director
(We will always get a chuckle out of two local AD's named Boo and Bubba. You just can't make that up!)
This past year plus has really been amazing in the sports world; locally, nationally and worldwide (Olympics!). The RSC Officers and Board members have been committed over the past year to reach this particular time. The time we can all get back together, in person (not a parking lot), have great food, fun fellowship, interesting and fun sports speakers all with a purpose of supporting local athletics.
We look forward to seeing you September 8!
Best Regards,
The Raleigh Sports Club Officers and Board of Directors
Sports Club Programs for 2021-2022
September 08, 2021
Boo Corrigan, NCSU Athletic Director
September 15, 2021
LeVelle Moton, NCCU Basketball Coach
September 22, 2021
Elliot Avent, NCSIU Head Baseball Coach
September 29, 2021
Dwight Hollier, UNC Associate AD
October 6, 2021
Jeff Gravley, NCSU Sports communications
October 13, 2021
Judge Robert Orr
October 20, 2021
Wes Moore, NCSU women's basketball coach
October 27, 2021
Dave Harding, Duke Blue Devil Network
November 3, 2021
Nina King, next AD at Duke
November 10, 2021
Bethany Bradsher, author
November 17, 2021
Silvia Hatchell, Former UNC basketball coach
December 1, 2021
Chris Lea, WRAL Sports Director
December 8, 2021
Cliff Godwin, ECU baseball coach
December 15, 2021
Scott Forbes, new UNC baseball coach
January 5, 2022
David Glen, Sports broadcaster
January 12, 2022
Bubba Cunningham, UNC Athletic Director
January 26, 2022
Luka Slabe, NCSU volleyball coach, Olympic coach
February 2, 2022
Daven Doeren, NCSU Football Coach