The Raleigh Sports Club will soon enter it's 60th year of providing delicious Wednesday luncheons where 150 or more gather weekly to hear fascinating stories from riveting speakers representing all parts of the college and professional athletic scene.
Why Join?
Hear Directly from Athletes, Coaches or Athletic Administrators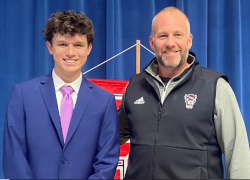 Wolfpack Football Coach Dave Doeren helping us honor local student athlete, Braden Anghie a soccer player at Green Level High School
At the Raleigh Sports Club we introduce members to a wide and very impressive variety of speakers to our weekly meetings. On any given week, you could hear from Dave Doeren, head football coach for the Wolfpack, or other local active college coaches, athletes, or athletic directors, or speakers from the world of professional sports, or even Hall of Fame athletes or coaches who represent a fascinating range of teams – each with cherished memories and great stories to tell.
Student Athlete Of The Week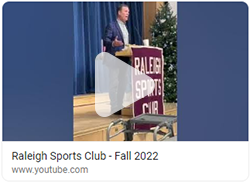 The RSC honors local high school student athletes for their achievements on the field, in the classroom and in the community. Wake County Coaches and Athletic Directors can nominate local high school student athletes for the RSC Student Athlete of the Week" award by completing this form:
Click Here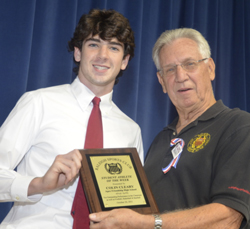 Colin Cleary of Apex Friendship High School was honored October 20, 2021 as an outstanding student and as a superb athlete in football, basketball, and baseball. The weekly award was presented by Rick Ulasewich of the Club Board of Directors.
The RSC honors local high school student athletes for their achievements on the field, in the classroom and in the community.
Talk Sports!

The RSC has a wonderful southern style buffet. Long lines form to get some of the best food and hear some of the most prominent sports speakers in the country. Get there early to get a good seat.
---
THANKS TO MORT'S TROPHIES AND AWARDS
For many years Mort's of Raleigh, NC has been donating the custom engraved plaque that is presented to the Student-Athlete who is honored each week by the Raleigh Sports Club. We appreciate Mort's gracious contributions to recognizing the amazing achievements of our local high school youth.
---
Please LIKE us on Facebook

You can follow Raleigh Sports Club on Facebook to learn about upcoming speakers, see stories and photos from recent meetings, share your comments and suggestions, and see the comments from other members. Please check in regularly and LIKE our Facebook page. If you see an upcoming meeting that would be enjoyed by others, please SHARE the notice with your Facebook friends.
---
RALEIGH SPORTS CLUB 60TH SEASON TO OPEN AUGUST 30, 2023
Plans are underway for another great season of sports talk. The Speakers Tab shows the terrific job being done by Vice President Sally Greaser and your Board of Directors lining up sports personalities for us beginning with our opening speaker, Kevin Keatts, NCSU Head Basketball Coach. Speakers for the year include:
Coaches Keatts, Moore, Avent & Doeren from NC State

Coaches Scheyer, Pollard and Elko from Duke

Athletic Director Bubba Cuningham and former player Charlotte Smith from UNC

Mike Houston from ECU, Justin Haire from Campbell, and others listed on our Speakers Tab
Our weekly format will continue to feature the great food from The Forks, fellowship with other members and guests, our Student-Athlete of the Week honor, weekly pick sheets and informative talks with notable personalities from the local sports world.
Wednesday, August 30 is our first meeting, and that is always one of our most well attended, so please plan to arrive early to get a great seat. We continue to meet in Bradley Hall at the Highland UMC, just inside the beltline, at 1901 Ridge Road, Raleigh, NC 27607.
Your Board made the difficult decision to raise our annual membership fee by $10 for this year but will hold the weekly cost for meals to $20 for members and $25 for guests. Note that the weekly fee applies whether the member or guest chooses to eat or not. This year we will also be offering packs of 5 weekly attendance cards that can be purchased for $100 and used at any meeting of the 2023-24 season. Buy a pack and use the cards to bring your guests with you at the member price.
The Club is selling commemorative 60th Anniversary Shirts for $45 that will be available in Men's and Women's sizes and various colors to choose from. Shirt orders may be placed during the first two weeks of the season. We will hold a raffle for one of the commemorative shirts at the end of our first meeting. Your membership must be paid in full to participate in the raffle.
You may print your membership form by clicking on this link.
We look forward to seeing you and a friend on August, 30 for fun and good food, fellowship and camaraderie, along with recognition of local athletic and academic prowess! If you have contacts at any civic clubs where our board might speak about the Raleigh Sports Club and its history, please email or call our president, Ken Updegrave (ken@kenupdegrave.com or 919-412-8389).
BANQUET HELD APRIL 5, 2023 WAS A 40th ANNIVERSARY CELEBRATION!
The 2022-23 season wrapped up again with a flourish at the North Ridge Country Club. The conclusion of our 59th year was also the perfect chance to celebrate the 40th anniversary of the Wolfpack's 1983 NCAA men's basketball victory over Houston. To remind us of that event we were honored to have Dereck Wittenburg as our banquet speaker. Dereck played a key role with the Pack (making the "pass" to Lorenzo Charles for the winning dunk) and he now works for NCSU, does fund raising for both the Jimmy V Foundation and the Dereck Wittenburg Foundation, and has been the driving force behind the award winning ESPN productions of "Survive and Advance" plus the 10 episode history of the ACC Tournament. Dereck reminded us that he played during the same ACC era with Michael Jordan. He said that he and Michael went head to head guarding each other in several games. He concluded that anecdote with a wry smile and recounted that he had outscored Michael in each game they had played!
A wonderful feature of each banquet is the opportunity to celebrate and recognize four talented local student-athletes and one Wake County high school coach. As in past years, we honored the very deserving local high school student athletes each with a $2,000.00 scholarship and we recognized the outstanding Wake County High School Coach with an honorarium of $1,000.00.
2023 Raleigh Sports Club Scholarship Recipients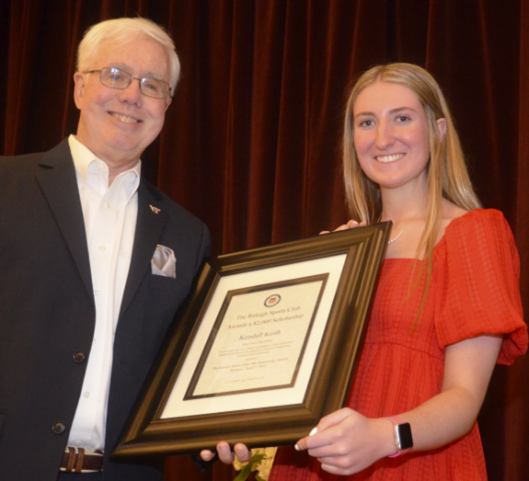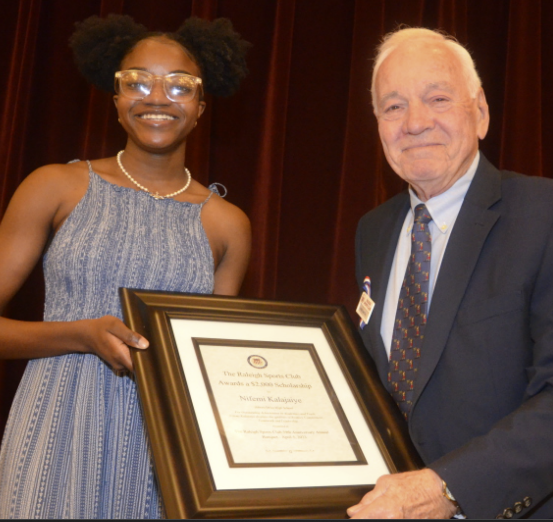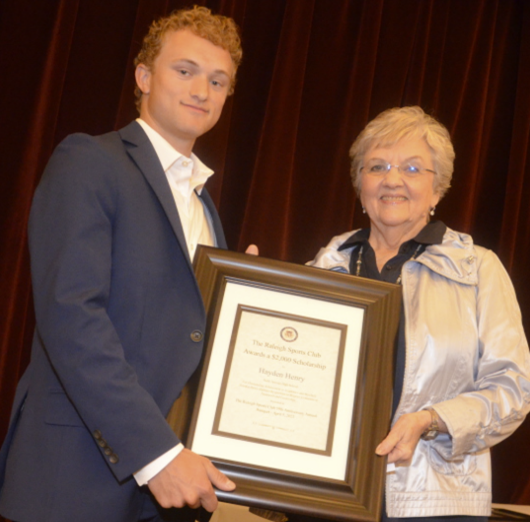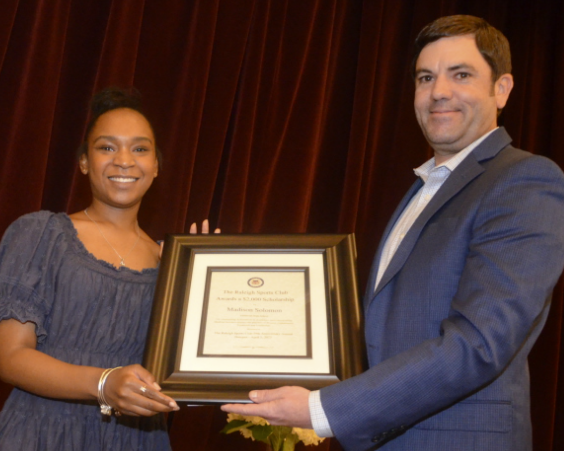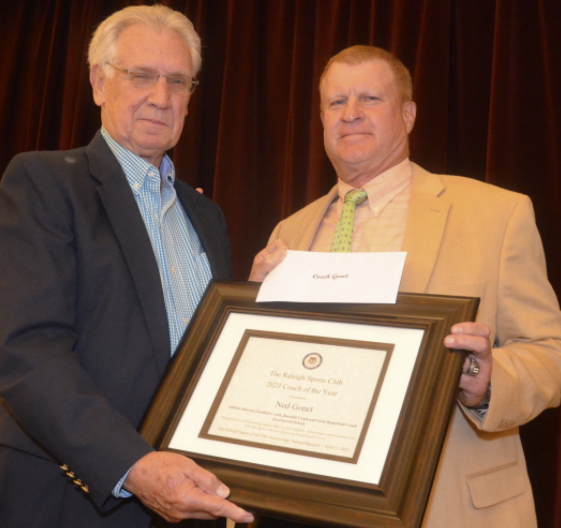 *********************************************************************
Our banquet program began with a stunning presentation of the National Anthem performed by local mother and daughter singers Charlena Lee and Albany Hooper. Following the delicious dinner and the presentation of awards to our student athletes and coach, we all enjoyed the heartfelt comments of Dereck Wittenburg who was introduced by his lovely wife, Jacqueline, a delightful speaker in her own right.

We know that all who attended enjoyed this wonderful season ending celebration!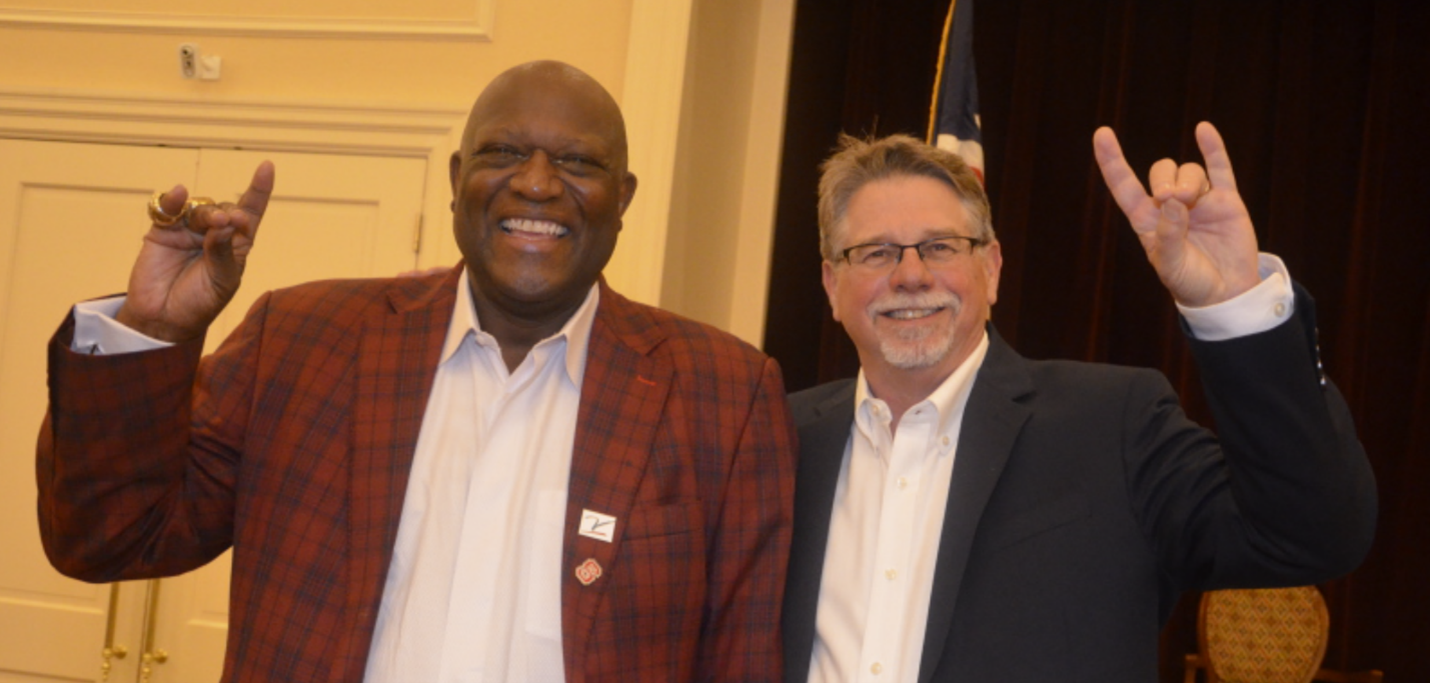 The 2022-23 Season has scored points with members
We have completed our 59th season as a club with 29 weekly luncheon programs, a flock of weekly student-athletes, and an outstanding banquet. It was clear that everyone had been ready for sports talk and camaraderie! Attendance was been up. We got positive comments about something brand new this year, featuring current college athletes as our speakers. We appreciated hearing them share their first hand experiences, achievements, and future plans. The Forks Cafeteria made sure that our food was delicious as always. The full list of speakers for the past season may be found by clicking on the Speakers Tab. Our 60th Sports Club season is being planned right now and will kick off with football in the fall. Check this website for details as they are ready to be published. We wish you all a happy and rewarding summer.
Upcoming RSC speakers are publicized in our weekly newsletter to members. These detailed descriptions of our meetings may be reviewed by using the links to past newsletters under the Archive Tab. The Speakers Tab also has a listing of last year's speakers along with names of the some of the famous speakers who have graced our stage during the past 58 years. We hope to have you join us soon for lunch and sports talk!