The Raleigh Sports Club is in its 59th year of providing delicious Wednesday luncheons where 150 or more gather weekly to hear fascinating stories from riveting speakers representing all parts of the college and professional athletic scene.
Why Join?
Hear Directly from Athletes, Coaches or Athletic Administrators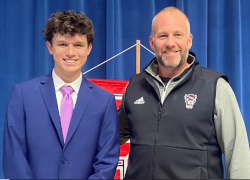 Wolfpack Football Coach Dave Doeren helping us honor local student athlete, Braden Anghie a soccer player at Green Level High School
At the Raleigh Sports Club we introduce members to a wide and very impressive variety of speakers to our weekly meetings. On any given week, you could hear from Dave Doeren, head football coach for the Wolfpack, or other local active college coaches, athletes, or athletic directors, or speakers from the world of professional sports, or even Hall of Fame athletes or coaches who represent a fascinating range of teams – each with cherished memories and great stories to tell.
Student Athlete Of The Week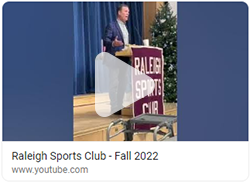 The RSC honors local high school student athletes for their achievements on the field, in the classroom and in the community. Wake County Coaches and Athletic Directors can nominate local high school student athletes for the RSC Student Athlete of the Week" award by completing this form:
Click Here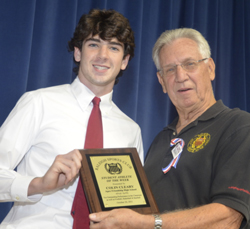 Colin Cleary of Apex Friendship High School was honored October 20, 2021 as an outstanding student and as a superb athlete in football, basketball, and baseball. The weekly award was presented by Rick Ulasewich of the Club Board of Directors.
The RSC honors local high school student athletes for their achievements on the field, in the classroom and in the community.
Talk Sports!

The RSC has a wonderful southern style buffet. Long lines form to get some of the best food and hear some of the most prominent sports speakers in the country. Get there early to get a good seat.
---
THANKS TO MORT'S TROPHIES AND AWARDS
For many years Mort's of Raleigh, NC has been donating the custom engraved plaque that is presented to the Student-Athlete who is honored each week by the Raleigh Sports Club. We appreciate Mort's gracious contributions to recognizing the amazing achievements of our local high school youth.
---
Please LIKE us on Facebook

You can follow Raleigh Sports Club on Facebook to learn about upcoming speakers, see stories and photos from recent meetings, share your comments and suggestions, and see the comments from other members. Please check in regularly and LIKE our Facebook page. If you see an upcoming meeting that would be enjoyed by others, please SHARE the notice with your Facebook friends.
---
The 2022-23 Season is scoring points with members
Our first three months of this new season show that everyone has been ready for sports talk and camaraderie! Attendance has been up, football is already approaching conference championships and bowl games, basketball is underway, our speakers and student-athletes have been terrific, and the food is delicious as always. The full list of speakers for the 2022-23 season is found by clicking on the Speakers Tab. Please note that the Raleigh Sports Club will NOT be meeting on November 23, nor on December 21 and 28 during these holiday weeks.
Upcoming RSC speakers are publicized in our weekly newsletter to members. These detailed descriptions of our meetings may be reviewed by using the links to past newsletters under the Archive Tab. The Speakers Tab also has a listing of last year's speakers along with names of the some of the famous speakers who have graced our stage during the past 58 years. We hope to have you join us soon for lunch and sports talk!