The Raleigh Sports Club is in its 59th year of providing delicious Wednesday luncheons where 150 or more gather weekly to hear fascinating stories from riveting speakers representing all parts of the college and professional athletic scene.
Why Join?
Hear Directly from Athletes, Coaches or Athletic Administrators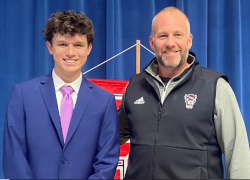 Wolfpack Football Coach Dave Doeren helping us honor local student athlete, Braden Anghie a soccer player at Green Level High School
At the Raleigh Sports Club we introduce members to a wide and very impressive variety of speakers to our weekly meetings. On any given week, you could hear from Dave Doeren, head football coach for the Wolfpack, or other local active college coaches, athletes, or athletic directors, or speakers from the world of professional sports, or even Hall of Fame athletes or coaches who represent a fascinating range of teams – each with cherished memories and great stories to tell.
Student Athlete Of The Week
The RSC honors local high school student athletes for their achievements on the field, in the classroom and in the community. Wake County Coaches and Athletic Directors can nominate local high school student athletes for the RSC Student Athlete of the Week" award by completing this form:
Click Here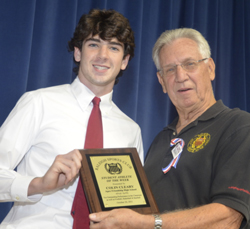 Colin Cleary of Apex Friendship High School was honored October 20, 2021 as an outstanding student and as a superb athlete in football, basketball, and baseball. The weekly award was presented by Rick Ulasewich of the Club Board of Directors.
The RSC honors local high school student athletes for their achievements on the field, in the classroom and in the community.
Talk Sports!

The RSC has a wonderful southern style buffet. Long lines form to get some of the best food and hear some of the most prominent sports speakers in the country. Get there early to get a good seat.
---
THANKS TO MORT'S TROPHIES AND AWARDS
For many years Mort's of Raleigh, NC has been donating the custom engraved plaque that is presented to the Student-Athlete who is honored each week by the Raleigh Sports Club. We appreciate Mort's gracious contributions to recognizing the amazing achievements of our local high school youth.
---
Please LIKE us on Facebook

You can follow Raleigh Sports Club on Facebook to learn about upcoming speakers, see stories and photos from recent meetings, share your comments and suggestions, and see the comments from other members. Please check in regularly and LIKE our Facebook page. If you see an upcoming meeting that would be enjoyed by others, please SHARE the notice with your Facebook friends.
---
2022-23 Pre- Season Announcements
Summer is upon us and congrats to the ACC teams; VA Tech, Notre Dame, and UNC along with ECU for making it to the Super Regionals of the College World Series. Also to Wake Forest for making it in. (Not mentioning the fates of others??) An exciting time for College Baseball!
As reported in our last pre-season message, our first meeting will be Wednesday August 31, 2022. Labor Day is September 5. We will also plan to meet that week, September 7, 2022. We look forward to a new season with a great line-up of speakers.
Last year, as you recall we raised both membership and weekly meeting fees. As a result, the Club is in good financial shape going into next year. Accordingly, the Officers and Board decided to keep Annual Dues at $90.00 per year. We also hope that we can keep weekly meeting cost the same as last year!
The Club was approached by RSC friend Jeff Gravely to participate in the Annual Pigskin Preview on July 22 featuring UNC, NCSU, Duke, ECU and NCCU's head football Coaches. It will be held at the Cary Embassy Suites. It begins at 11:00 with lunch provided! (He did mention that the Durham Sports Club was sponsoring a table) Tables range from $750-$1500. It is a well-publicized event and also for a good cause.
Pigskin Preview | billdooleychapter (nffbilldooleychapter.org)
The Officers and Board did not think that the Club should simply buy a table and send 8 members but think it is an opportunity for exposure to have our name listed and decided to couple the Pigskin Preview with our summer membership drive. This will help us to prepare the budget and handle some pre-season expenses.
Typically, notifications for membership renewal are sent in mid-July of every year. This year please consider renewing your membership early by July 1, 2022 for $90.00 and include an extra $10.00 ($100.00 total). With your additional $10.00 donation you will be entered in a "raffle" for one of the eight (8) seats available through the Club's purchase of a $750.00 table.
Please note that membership dues of $90.00 will continue to be accepted through the summer and at our first meeting and beyond. But, renew by July 1 with the additional $10 to support the Club and have the chance to represent the Club at the Pigskin Preview! Checks can be mailed to P.O Box 10275, Raleigh, 27605.
Your Officers and Board will continue to meet through the summer and will stay in touch. If you have any questions, comments or suggestions, do not hesitate to contact Robert Hinson, President rchlapp@aol.com
---
Dear Members, Guests, and Friends of Raleigh Sports Club:
ANNUAL BANQUET HELD MARCH 30, 2022 WAS A BIG HIT!
Our terrific 2021-22 season returned to face-to-face meetings after the pandemic. The year was capped off with a well attended banquet at North Ridge Country Club. After two consecutive cancelled banquets we were all happy to be back to celebrating and recognizing talented local athletes and a Wake County high school coach.
As in past years, we honored four very deserving local high school student athletes each with a $2,000.00 scholarship and we recognized an outstanding Wake County High School Coach with an honorarium of $1,000.00.
2022 Raleigh Sports Club Scholarship Recipients

Dillon Bethea, Heritage High School
Football, Lacrosse
Banquet Host – John Watkins


Avari & Kaira Barbour, Broughton HS
Cheerleading
Banquet Host – Vince Matal

Logan Dukes, Cary Christian School
Basketball
Banquet Host – Lubin Prevatt

Gracie Vaughn, Holly Springs HS
Track, Cross Country
Banquet Host – Rob Turner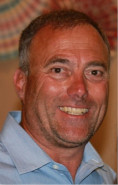 2022 Raleigh Sports Club Coach of the Year
Clarence Inscore
Millbrook High School
Football Coach
Banquet Host – Rick Ulasewich
The Banquet Program began with a stunning presentation of the National Anthem performed by local singer, Mary Mikels. Following the delicious dinner and the presentation of awards to our student athletes and coach, we were treated to an inspiring talk by our guest speaker Jamie Valvano, middle daughter of Jim Valvano!! She was introduced by Jimmy V recruit, player and Wolfpack great, Chris Corchiani who also shared a few stories.
The program lived up to its promise. It caused us to do three things in the immortal words of Jimmy V; "to laugh, to think and to have our emotions moved to tears."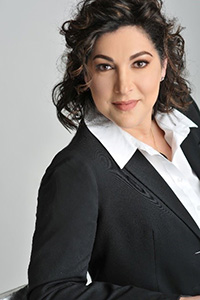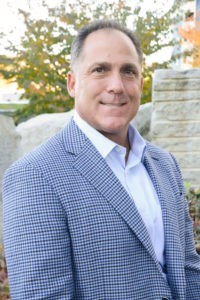 We know that those who attended all enjoyed this wonderful season ending celebration!
---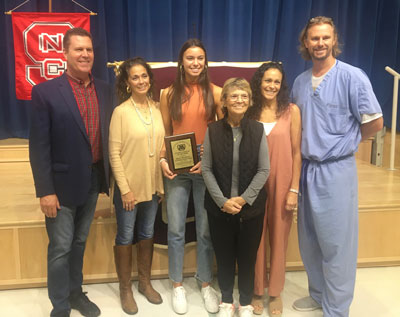 Review of Sports Club Programs for the past season: 2021-2022
September 08, 2021
Boo Corrigan, NCSU Athletic Director
September 15, 2021
LeVelle Moton, NCCU Basketball Coach
September 22, 2021
Elliot Avent, NCSIU Head Baseball Coach
September 29, 2021
Dwight Hollier, UNC Associate AD
October 6, 2021
Jeff Gravley, NCSU Sports communications
October 13, 2021
Judge Robert Orr
October 20, 2021
Wes Moore, NCSU women's basketball coach
October 27, 2021
Dave Harding, Duke Blue Devil Network
November 3, 2021
Nina King, next AD at Duke
November 10, 2021
Bethany Bradsher, author
November 17, 2021
Silvia Hatchell, Former UNC basketball coach
December 1, 2021
Chris Lea, WRAL Sports Director
December 8, 2021
Cliff Godwin, ECU baseball coach
December 15, 2021
Scott Forbes, new UNC baseball coach
January 5, 2022
David Glen, Sports broadcaster
January 12, 2022
Bubba Cunningham, UNC Athletic Director
January 19, 2022
Johnny Evans, NCSU Radio Sportscaster and former football quarterback
January 26, 2022
Luka Slabe, NCSU volleyball coach, Olympic coach
February 2, 2022
Dave Doeren, NCSU Football Coach
February 9, 2022
Joe Ovies, Radio Sports Broadcaster at "99.9 The Fan"
February 16, 2022
Russ Bergman, Basketball coaching consultant and former roommate of Pete Maravich
February 23, 2022
Mike Houston, ECU Head Football Coach
March 2, 2022
Mike Elko, Recently announced Head Football Coach for Duke University
March 9, 2022
Avie Lester, former NCSU basketball player and now the successful head women's coach at North Raleigh Christian Academy
March 16, 2022
Laurie Henes, NCSU Women's coach for Track and Cross Country
March 23, 2022
Mike Minter, Campbell University Football Coach