The Brannock Family: Ed, Cyndi, Bud, Mike
Raleigh Sports Club Featured Members, 2018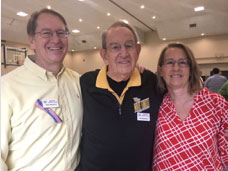 It has been a part of our weekly programs to often feature a Raleigh Sports Club member of the week, but I don't think we've ever before done a Featured Family of the week. Well, today we are recognizing the Brannock family, who regularly attend and sit together at a rear table near the buffet line. Pictured from left to right are Mike, Ed and Cyndi. Bud was not available for the photo.
Three years ago, Ed Brannock, the father of this clan was our Featured Member of the week. I won't say much more about Ed today other than give him the credit for getting all three of his children to join the Raleigh Sports Club. It is also fitting that we will recognize Ed's family today when Dave Clawson is our guest speaker, because Ed played football for Wake Forest back in the day before the University moved to Winston-Salem and long before Dave Clawson was even born.
Cyndi Brannock Kiernan was born on Oahu, as was her younger brother Bud. Their dad was career Army and his family got to live in some interesting places in addition to Hawaii, such as Arizona, Washington DC and Massachusetts. But, of course, they all ended up back home in North Carolina (Ed is originally from Mt. Airy, and his wife of 61 years, Doris, is from Raleigh). Growing up Cyndi attended 10 different schools in 12 years before settling down in Raleigh and getting her degree from NC State. "Since we moved so often," said Cyndi, "my brothers and I had to rely on each other, and we were always best friends." They were all were raised to be sports fans even though none were serious athletes. Cyndi is now works for a private equity firm in Raleigh. Cyndi and her husband, Mike, have 4 children and 2 grandchildren.
Bud Brannock is Ed's eldest son and had been an RSC member until this year when the requirements of his job with NC State prevented regular attendance. Bud won the free throw shooting contest at the Norm Sloan basketball camp back in the 70s and has been a big State fan ever since. In college Bud wrapped a lot of ankles as a sports medicine trainer. Since 1999 Bud has probably attended more local sporting events than any of us here in the room. As part of the security staff at PNC Arena, he is down near the floor for all NC State and Hurricane home games! Bud and his wife, Kristen, have three sons.
Mike is the youngest of the Brannock children, and was born at Fort Bragg. In high school Mike learned to play the trumpet and became a "band geek." At UNC Chapel Hill he enjoyed seeing many exciting football and basketball games from the Pep Band section including Dean Smith's first national championship in New Orleans where Michael Jordan hit that famous winning shot. Mike studied journalism and advertising and tried his hand at that field before becoming the marketing director for Domino's Pizza. Later he ran his own pizza restaurant in Kernersville for five years. In 1997 Mike changed careers and became a successful investment advisor here in Raleigh. He is married to Tracy, who is from Oklahoma but loves UNC football and basketball. It's not too surprising that all three of Mike's sons played in the band. Two sons, Daniel and Jason, played in their college bands – one at UNC and the other at NC State. Son, JD, went to UNC but gave up band to become a letterman in fencing. Their younger sister, Jill, is at Apex high school and is an avid volleyball player. Mike found that coaching Jill's rec league team in volleyball "was as fulfilling as chasing a national title." Mike was elected to the RSC board of directors last year. He has enhanced the club's Facebook and internet presence and has been doing a terrific job of introducing our student-athlete of the week when Rick is away.
The Brannock family enjoys the rivalry of supporting many of our local universities, cheering and jeering together, and being a part of this wonderful Raleigh Sports Club.
P.M.Benda, February 21, 2018