A. J. Carr
Raleigh Sports Club Featured Member from 2012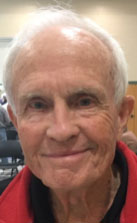 AJ Carr was raised in Wallace, NC, and played football, basketball and baseball in high school. He was a P.E. major at Guilford College but did not play varsity sports. While in school he got a start in his sports writing career by helping the Athletic Department in their sports information division and also working part time at the Greensboro Daily Record.
After college AJ joined the Daily Record where he met his future wife, Nancy. They were married in 1965 and now have two sons and five grandsons. AJ feels blessed that all live nearby in Raleigh. After moving to Raleigh in 1966, AJ had a 43 year career as sports writer for the News and Observer. He was twice named North Carolina Sports Writer of the Year and is enshrined in the Guilford College Hall of Fame. Among AJ's duties with the N&O was coverage of the Raleigh Sports Club which he was pleased to join officially upon his retirement in 2009.
AJ is a big fan of ACC sports, but not any one particular school. He has enjoyed the opportunity to witness many exciting college games in person and has interviewed hundreds, if not thousands, of college and high school coaches and players throughout his distinguished career.
AJ has played tennis all his life until slowed by hip replacement. He still works out at the YMCA nearly every day and still enjoys shooting hoops. AJ and Nancy are active at Millbrook Methodist Church, where he has taught Sunday School for more than 30 years.
K. Lowman, 2014 (Updated by P.M.Benda, Oct 12, 2017)