Bill Clarke
Raleigh Sports Club Featured Member, 2012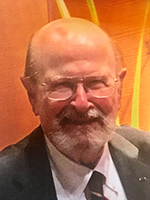 Our Featured Member this week is a Wake Forest fan. He enrolled there at age 17, and upon graduation began his career in the Air Force. Bill became a fighter pilot, flying F-86 Sabrejets in places like Michigan, England, Germany, Denmark and Italy. In 1956 he was a member of the winning 6-pilot team during a rocketry competition involving all 56 Air Force fighter-interceptor squadrons stationed around the world.
After this international experience, Bill was assigned to NC State, where he taught Advanced Air Force ROTC classes for 4 years, and learned that he liked Raleigh. Soon after that he was back in the air again, flying F-102 Delta Daggers out of Seymour Johnson Air Force base, Key West, Newfoundland and Labrador.
During the Vietnam War in 1967, Bill flew 110 combat missions in 7 months, with 100 of these over North Vietnam. He says this was called a Sporty Course, because while the number of reconnaissance fighters never exceeded 100 during the course of the war, 76 were lost in action.
Following his combat tour, Bill was sent directly to Air Force headquarters in the Pentagon as an operations analyst. He edited a classified magazine whose circulation included the White House. He then moved into Public Affairs, which would become his career from that time forward. Bill was the chief public spokesman for Air Force Research and Development. Later, as a full Colonel, Bill was Chief of Plans and Programs for the Assistant Secretary of Defense, Public Affairs. He says this job was not as good as flying, but it was close. Bill concluded his career with a 2½ year tour as the Air Force Assistant Director of Public Affairs, worldwide.
During his 30-year Air Force career Bill logged approximately 4,000 hours of flying time, almost all in jet fighters. He has fond memories of many lifelong friends, the satisfaction of seeing the successful careers of his former students from NC State, and the most fun of all -- Flying a Phantom-II at more than twice the speed of sound! While very reluctant to talk about himself, Bill has had some amazing recognition: He was awarded the Air Medal 11 times; he was twice awarded the Legion of Merit for outstanding contributions in his non-flying leadership positions; and, he was awarded the Distinguished Flying Cross three times!
Bill retired to Raleigh in 1980. Since that time, he has traveled the world, written and published a book about his flying career, and indulged his passion for white water rafting, with expeditions of up to two weeks, in North America and Africa. And, he has been a loyal and regular member of the Raleigh Sports Club.
No accolades or honors cause Bill's chest to swell as much as the pride he has in his two children. His son, Bill, is a Phi Beta Kappa graduate of the University of Virginia, has an MA from Yale, and operates his own design studio in New York City. He has designed plays and musicals across the U.S., in Lithuania, and in Moscow. Bill's daughter, Liz, holds a degree in History from Columbia University. She attended the Graduate School of Journalism at UNC Chapel Hill, and is a Senior Sports Reporter for the Washington Post. Bill is so pleased that Liz has shared her insights with the Raleigh Sports Club as our featured speaker (in 2012, 2016 and 2018).