Darrell Dennis
Raleigh Sports Club Featured Member, 2012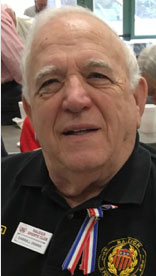 Darrell Dennis was reared in and around Asheville, NC, and loves to tell stories about his grandfather – a moonshiner, a Baptist Preacher, a railroader, and evidently a darn good carpenter. When a new highway came through Asheville, grandpa's house was in the right of way. He made a deal with the city, took the house apart one piece at a time, and then reassembled it a few miles away!
Darrell played football so well in high school that he earned an athletic scholarship to Wake Forest University. He was the first member of his family to attend college. While at Wake he enjoyed good teams and played with stars like Billy Ray Barnes and Norm Snead. He also played against some mighty good players such as NC State's Hoot Gibson, his old high school teammate, and the RSC's own Ken Nye. They all remain good friends.
After three years of semi-pro football in Miami, Darrell began a sales career in North Carolina. He sold medical equipment for 32 years and later worked for Rex Hospital selling lab services.
Darrell met his wife Peggy on a blind date and they were married in 1975. He and Peggy raised two boys and a girl. Darrell also coached football in Raleigh for 13 years, winning seven Raleigh City championships. His son coached the North Raleigh Bulldogs, a team on which his grandson played.
Darrell is an ardent model railroader with special interest in the realistic "O" scale trains. He gets together with his "O" scale buddies who call themselves "The Sipin' and Switchin' Society."
Darrell has been an enthusiastic member of the Raleigh Sports Club since 1998 and has previously served as our president.
K. Lowman, 2012 (updated by P.M.Benda, 2018)