Bob Jones
Raleigh Sports Club Featured Member, 2018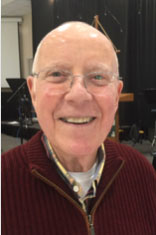 Most of us have known Bob Jones by the eloquent and oft times witty introductions he has provided for our weekly speakers. Bob was our Vice President and Program Chairman for three years and has continued setting up our weekly programs this year from his new home in Charlotte. That means that he has does much more than provide introductions for our speakers – he also identifies candidates, contacts, invites and schedules them, and would then hosts them at our luncheons until turning that responsibility over to Carol Pope this season. Bob has done a magnificent job of keeping the quality, diversity and entertainment of our meetings at a high level. His position has allowed him to know personally many of the outstanding sports figures from our area. Now, it's time for us to know a bit more about Bob, our Featured Member for this week.
Like many of us, Bob began attending the Raleigh Sports Club because a friend invited him to come as a guest about 10 years ago. Bob was already a member of Highland United Methodist Church and he soon added our Wednesday luncheons to his weekly schedule. But, just what was Bob up to before we all got to know him?
Well, as a North Carolina native hailing from out in the country near Laurinburg Bob always loved sports. His favorite sport to play was "Cow pasture" baseball. He lived too far from town and his high school to join any of the school teams. Bob was a good student and was accepted to NC State where he studied math education. By the time he finished his schooling, Bob had degrees from all three triangle universities – including a masters from UNC and his PhD from Duke. Yes, he cheers for all three schools and ardently supports the rest of the ACC universities in post season play.
Bob taught math for five years, first at Broughton and then in Virginia before returning to Raleigh to join the state department of Public Instruction. For 28 years he helped define and design our statewide curriculum for math education. After retirement from the state Bob worked another 20 years in sales and travelled throughout the Tarheel state.
Bob and his wife, Jean, lived in the same house in Raleigh for 50 years before recently relocating to a retirement community near Charlotte. The move brought them closer to two of their three children and all 5 of their grandchildren. Bob joked that he and Jean have been accused of being supporters of the KKK, because their children are named Karen, Kimberly, and Kevin.
Bob hopes to continue trekking to Raleigh on Wednesdays as his schedule permits, especially now that he has recovered from recent heart issues. He thinks the Raleigh Sports Club provides more than great food, fascinating speakers and camaraderie; it affords us all an opportunity to know a wide range of distinguished members from varied careers and interests.
P.M.Benda, Oct 12, 2017