Greg Pierce
Raleigh Sports Club Featured Member 2012 (updated 2017)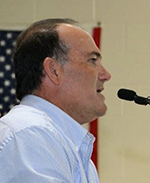 Greg Pierce is a lifelong sports fan who has been an active leader of the Raleigh Sports Club since 1999. He has served as club president and treasurer for the past four years after previously gaining experience on the Board of Directors where he significantly upgraded our website, produced an introductory video, and helped improve the administration of our club records
Greg was born in Rocky Mount where he played high school football and baseball. He turned down an opportunity to play college football to stay near home and attend Atlantic Christian College from which he graduated Magna Cum Laude in 1990. Greg enjoyed a successful 16 year career in banking which took him to Charlotte, Asheville and Raleigh. He was featured in the Wall Street Journal and named one of Triangle Business Journal's "40 Under 40" while working in banking. He achieved the level of Senior Vice President before leaving the profession at the age of 39.
His banking experience included but not limited to operations, security, compliance, asset liability management, investment portfolio, branch administration, cash management, funds management, technology, marketing and audit. He worked closely with the State and Federal Bureaus of Investigation looking into the discovery of over $1,000,000.00 in bank fraud.
Since 2007 he has been self-employed, managing real estate investments which include renovating distressed properties and then either selling or renting them. He has renovated and sold or rented over 110+ residential homes in the last 11 years. Greg also serves on the Board of Directors with Sheraton Vistana Villages in Orlando, Florida. This appointment has allowed him and his family to travel to Maui, Aspen, St. Johns, Cancun, Aruba, Bahamas and Puerto Rico.
When Greg met his wife, Suzanne, he was living in Charlotte and she was living in Elm City. They have two teenage sons, Drew (19) and Tyler (14). Drew is a junior at UNC-Chapel Hill studying to become an Orthopedic Surgeon. Tyler is a sophomore at Wake Christian Academy where he plays school and travel club soccer. Greg has been a volunteer coach with his son's Wake Christian Academy teams and has also coached boys and girls age group soccer teams. In addition to coaching, Greg is a longtime baseball fan who has attended games in at least 15 major league parks. Greg and his family are avid Tarheel fans. Greg is active at Midway Baptist Church, and has served on mission trips to Costa Rica, Panama and the Kuna Indian Islands.
The Raleigh Sports Club owes a big debt of thanks to our 2017 Featured Member, Greg Pierce, for his dedication and leadership. He has since helped our club to achieve record membership levels while our club is heading into its second half-century of serving the sports fans of our area.
K. Lowman, 2012 (Updated by P.M.Benda, Oct 23, 2017)