John Reid
Raleigh Sports Club Featured Member, 2013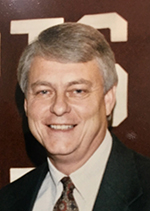 Our Featured Member this week is a fan of Western Carolina and UNC Chapel Hill. John grew up in the small community of Pilot Mountain, North Carolina. He tells his grandchildren that he is so old that the Mountain was a lot smaller when he was growing up. John played basketball and football in high school, and says one reason he went to college at Western Carolina is because he could shoot hoops in a gymnasium bearing his family name. His uncle had been President of Western Carolina and they named the gym after him. John loves basketball. As a freshman, John hitch-hiked all the way to Kansas City to see Western Carolina play in the NAIA national championship game.
After graduating, John joined the National Teaching Corps, and while taking night courses for a Masters Degree in Education, he taught for two years at a tiny school in Jackson County. He says many of the students had to drop out during the winter, because they had no shoes to wear. Lady Bird Johnson came to visit the school one day surrounded by news reporters. Speaking of the visit, John was quoted on National TV by Walter Cronkite. He thinks the focus and attention made a difference for that little school, and propelled some of the kids to careers doing something besides logging. A few even went on to college, such as one girl he knew who became a great teacher.
John also met the love of his life while at Western Carolina. His wife JoAnne was a star basketball player in high school, valedictorian of her class, and graduated Magna Cum Laude from college. He says his two tall, athletic and smart sons clearly inherited her genes.
After college, John and his new bride both taught high school in Henderson, NC. While there he also played in a Recreation Basketball league. It happened that he was a teammate of our famous Raleigh Sports Club secretary, Larry Smith. They remain good friends to this day. After a couple years of teaching, John went back to grad school at Appalachian. In 1972 he moved to Cary and took a position in administration with Wake Technical College. That year there were about 2000 people taking at least one class at Wake Tech. By 2012 that number had soared to 60,000! One of the key elements in that tremendous growth was the introduction of a College Prep program. John was the person primarily responsible for that addition. He retired from Wake Tech in 2002 as the Dean of Arts and Sciences, responsible for 110 teachers.
John and JoAnn have two sons. One son has degrees from NC State, and the other has degrees from both Appalachian and UNC. Since retiring, John enjoys golf, college sports, and spending time with his grandchildren. He is a member of the Cary Senior Golf Association, and a long-time member of the Raleigh Sports Club. After a couple of years on our board he then served as Secretary, Vice President, and finally as President in 1997-98. Among John's many notable accomplishments was convincing Roy Williams to be our guest banquet speaker. And this was while Ol' Roy was still coaching at Kansas!