John Robinson
Raleigh Sports Club Featured Member, 2017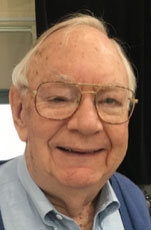 We all know John Robinson as the Raleigh Sports Club Chaplain who leads us each week in the pledge of allegiance to our flag and then blesses our meal and our time together. John has been serving us all in this capacity for the past six years. He earned the position because he once filled in so admirably for the pastor of this church. John has been a long time member of Highland United Methodist church and has been a regular Sports Club attendee for more than 10 years. When I asked what John's qualifications were for serving as our chaplain, he answered simply, "I know how to pray."
Well, since John has been praying regularly for all of us, it is fitting that he has been selected to be our Featured Member this week. It's time that we all got to know a bit more about John.
Our Featured Member grew up in St. Louis near the Hill, a mostly Italian-American neighborhood located on high ground just south of Forest Park. The Hill is the area that gave us important baseball figures like Yogi Berra and Joe Garagiola. In fact, their boyhood homes sit directly across the street from each other. Both Yogi and Joe worked waiting tables at a nearby restaurant called Ragazzi's. Yogi once famously described the restaurant as "being so crowded that nobody goes there anymore." But I digress . . .
As a youth, John Robinson didn't have much time for baseball or any other sports. His free time was spent earning money and experience in a local photo shop during both high school and college. John was a self-described "streetcar kid" while attending nearby Washington University. He lived at home for three of his four years of college and majored in Electrical Engineering. His one year of living on campus was due to the fact that he had been elected president of his fraternity, Sigma Chi . . . which also just happens to be my fraternity from the University of Illinois. How many other Sigs are there in the room?
John married Martha, the sweetheart of Sigma Chi, during April of his senior year. When he graduated they headed for Pittsburgh in John's Olds 88 to go to work for Westinghouse. It was while living in the steel city that John and Martha became big sports fans. They were there during the golden years for both the Steelers and the Pirates. John said it was a big readjustment to learn about the fun of college sports after he moved to North Carolina.
John built a reputation as a specialist in power equipment during 15 years in Pittsburgh. In 1979 he took an opportunity for advancement with a move to Raleigh. In Raleigh, John's expertise soon made him a world traveler. He helped establish factories for Westinghouse, and later ABB, to build electric meters in distant places like Moscow, Germany, Sweden, India, and Australia. John was working in Shanghai in 1983, just a decade after relations had been reopened between our country and China. His hotel placed him into the exact same room that Richard Nixon had used during his groundbreaking visit to China.
John retired in 2001 and elected to remain in Raleigh where he enjoys volunteering for organizations like the NC Museum of Art. He and Martha have three daughters and five grandchildren. Their daughters live scattered across the country, but one granddaughter lives here, cheers for the Wolfpack, and will be married nearby next fall.
Please take the opportunity to get to know John and, if you feel so inclined, please keep him and his family in your prayers.
P.M.Benda, 2017