Larry Smith
Raleigh Sports Club Featured Member, 2011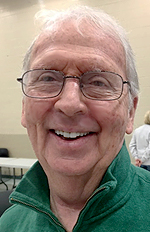 Our Featured Member of the week grew up an avid NC State fan, following in the footsteps of his father and uncle. Raised in Currituck County, Larry came by his "high tider" accent naturally. He was active in all types of sports, playing basketball and football along with all the usual water sport activities that Currituck Sound had to offer.
Unfortunately, Larry turned out to be a terrible driver. It appeared that his sports career was over when his car hit a bridge abutment, shattering his knee cap. Removing the knee cap ended Larry's football career, but at 68 he is still playing basketball in his church league, and he also loves his twice weekly tennis matches, weather permitting.
With his gift of gab he was always popular with the ladies in high school. That nearly came to an end when Larry had to stop his car for a passing train. As the story goes, he reached over to kiss his girlfriend and inadvertently took his foot off the brake. They were both shocked when the car ran into the passing train . . . being hit repeatedly by multiple train cars! A short while later when Larry and his cousin Phil were at Nags Head to watch the moon come up, he decided that they would get a better view from the top of the Wright Brothers' Memorial. Since his knee was still hurting, Larry drove his car up to the top and the view was spectacular. Ah, those were the days!
Somehow, as a senior in high school his college choice changed. The Wolfpack fan was headed instead to Chapel Hill. Larry has been a diehard Tar Heel fan ever since.
After graduation Larry's first job as Purchasing Manager for JFD Electronics took him to Henderson, where he met and married the girl of his dreams, Melinda. While there they became close friends with future Sports Club member John Reed and his wife. Career changes took Larry to Cary where he worked for Almay Cosmetics and Nortel before moving to his current job of Facilities Manager at the College Foundation of North Carolina.
Larry and Melinda have been active members of the First United Methodist Church since landing in Cary. He is also a charter member of the Cary Kildare Rotary Club where he has held many positions including President and Sergeant-at-Arms.
Larry is proactive father for his kids, Kyle and Jomarie, and was involved in many of their childhood activities including coaching their sports teams, supporting them through Indian Guides, and roughing it on weekends at Camp Seagull. Larry's kids in turn provided for his international experience: He twice traveled to Bosnia in support of Jomarie's humanitarian work. Then, five years ago Kyle decided to sponsor a trip to Ghana as a tribute to his grandfather, Walter, who had suffered from polio as a child. Larry went along to help Kyle administer the polio vaccine to many African children.
Ever the Carolina fan, Larry has long held season tickets at the Dean Dome. However, he doesn't have season tickets for football. Instead, he attends most games and picks up a scalper ticket on the way into the stadium. He then knows so many people that he always finds a buddy to sit with and watch the game.
Four years ago Larry was so excited about tailgating with Kyle and his buddies at a UNC game that he keeled over with a heart attack. Fortunately he was very close to UNC hospital where he underwent quadruple bypass surgery. When the docs came out, they said he would be alright but could not have visitors for six hours. So Melinda, Kyle, Jomarie, and their spouses went to Larry's favorite restaurant, The Ratskeller, to celebrate with his favorite meal . . . steak. It may be only a coincidence that the Ratskeller has now closed, but we think this may be the result of the strict diet imposed on Larry during his recovery.
Larry has been a long time member and officer of the Raleigh Sports Club. You meet him every week as our secretary. It is appropriate that we honor today this doting grandfather of three as our Featured Member of the week.
Ron Shoulars, 2011