Rick Ulasewich
Raleigh Sports Club Featured Member from 2017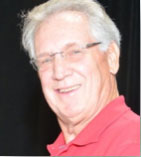 We've all gotten to know Rick Ulasewich from the terrific job he does hosting and introducing our student-athletes each week at Sports Club. Rick loves our club and his board assignment. He has been a regular attendee at our meetings for 16 seasons and has been the host of our student-athletes now for more than five years. It permits him to personally get to know so many fine young people from our community and he loves helping with the recognition of their achievements. Now it's time for us to know a bit more about Rick.
Rick grew up across the river from New York City in Union, NJ. It's no wonder that he was a big fan of the Yankees and Mickey Mantle as well as the NY Giants and Knicks. In high school he strived to emulate his sports heroes while playing football, basketball and baseball. Rick then commuted to nearby Fairleigh Dickenson University where he studied Mechanical Engineering and played semi-pro baseball in his spare time.
After graduation Rick's first engineering job was with Otis Elevator. After a year of ups and downs he moved on to Bristol-Myers where he enjoyed a 40 year career. If you have ever had challenges opening your bottles of Bufferin or Excedrin, you can blame it on Rick who had the task of designing the tamper proof mechanisms.
Near the beginning of his work career Rick married his high school sweetheart, Jeri. She was an also an athlete who excelled at figure skating. Their family of two children and four grandchildren followed. Their son, also named Rick, played baseball at Broughton and Elon University. He now lives in Texas. Daughter Danielle went to Broughton too and currently lives nearby in Wake Forest. Each of their children is now married with two youngsters of their own. Not surprisingly Rick's two grandsons and two granddaughters are all athletic and are lovingly referred to by their nicknames: Teapot, Slugger, Rookie and Lane Dog.
In 1979, Rick was given the opportunity to help design a new plant for Bristol-Myers in Morrisville. He says that moving his family to North Carolina was the best move he ever made. It was here that he learned the joy of college athletics and he has now been a season ticket holder for NC State football games for 34 years. Rick and Jeri recently moved from their family home of 38 years to live in the golf course community at Heritage. Rick is hoping that his golf game will benefit from the new hip that is scheduled for installation early in 2018.
Rick has enjoyed sharing his love of sports with his children, grandchildren and others. He believes that our weekly sessions at the Sports Club provide invaluable insights into the world of athletics, and are much like "up close and personal" coaching clinics.
P.M. Benda, Nov 2, 2017